Brownstown Ewing Farmers Market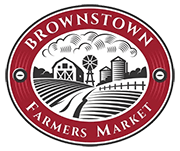 The Brownstown Farmers Market will operate from 4:30 pm – 6:30 pm every Thursday from June 13, 2019 to August 29, 2019 in Heritage Park in Downtown Brownstown.
Please notice the change in market day and hours.
Contact Purdue Extension Jackson County at 812-358-6101 if you would like a contract for the 2020 season.