News and Events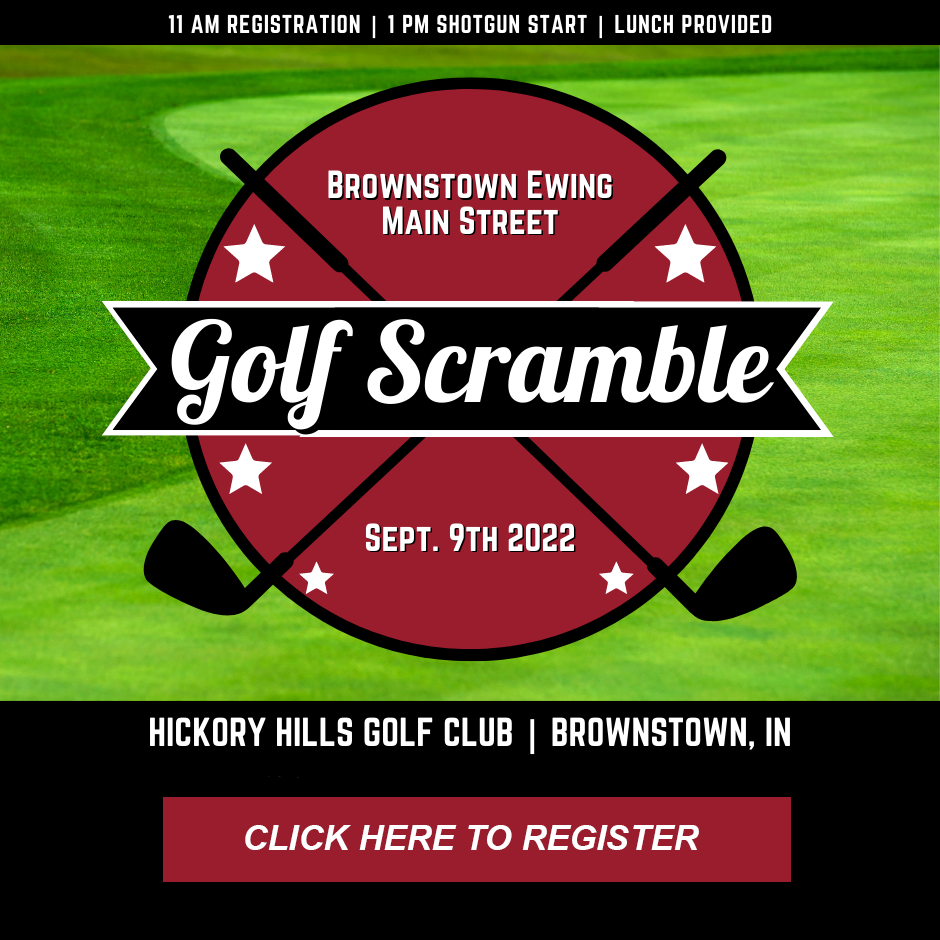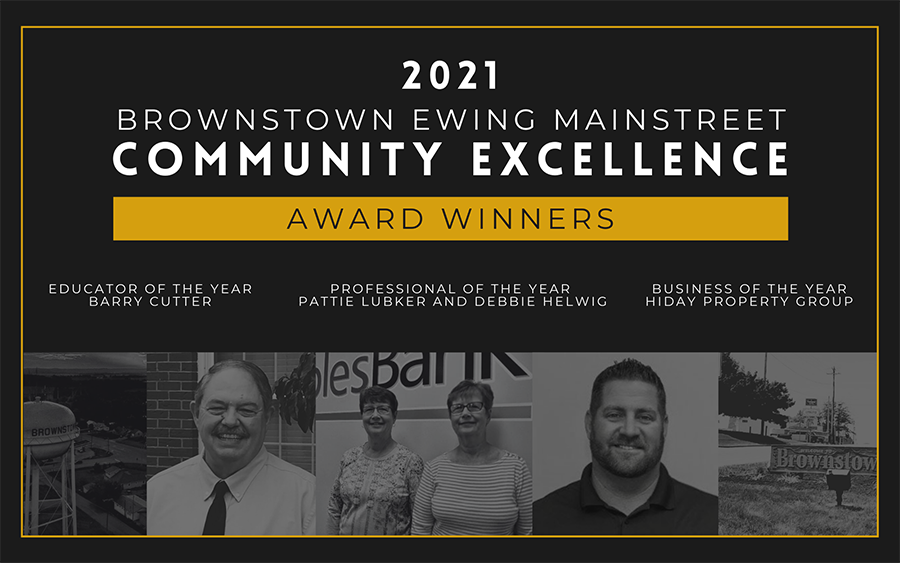 LISC Rural Small Business Relief Grant
The Local Initiatives Support Corporation, known as LISC, is one of the country's largest social enterprises supporting projects and programs to revitalize communities and bring greater economic opportunity to residents. We invest in affordable housing, growing businesses, safer streets, high-quality education and programs that connect people with financial opportunity. We provide the capital, strategy and know-how to local partners to get this done.
Beginning 9/28/20, LISC will have a small business relief grant open to rural areas nationwide or communities with fewer than 50,000 people.
A few notes on the application
Open to for-profit organizations only
Applications can be submitted generally in 15-25 minutes and do not require document uploads
Minority, women and veteran-owned businesses are prioritized. Immigrant owned businesses are eligible if they have an ITIN.
This is a competitive process
Applications will be open until 10/5/2020
Grants will range from $5,000 to $20,000
Business that have sustained losses, layoffs, etc. during COVID will be prioritized
Click here for more information and to apply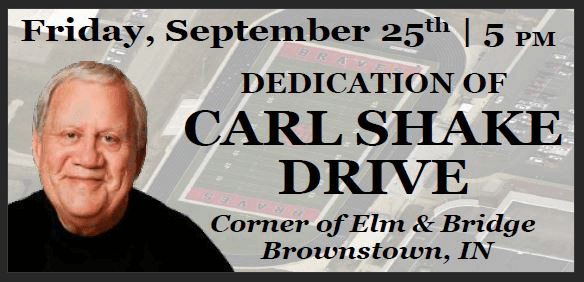 Over the past 50 plus years Carl has donated an immeasurable amount of time and resources to the Brownstown community. In his honor, the Town is renaming a section of Elm Street, Carl Shake Drive. Everyone is welcome to join Carl, his family & friends for the unveiling of the new street sign at 5 pm on Friday, September 25th. We encourage all of our members to attend as we show our appreciation to Mr. Shake and all he has contributed to our great community!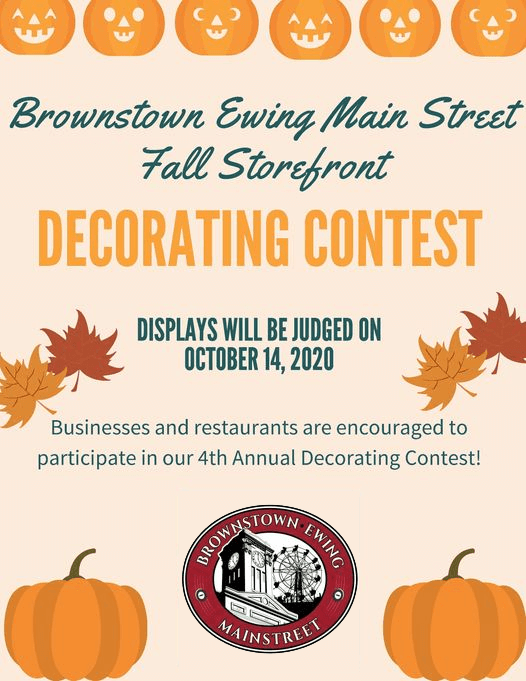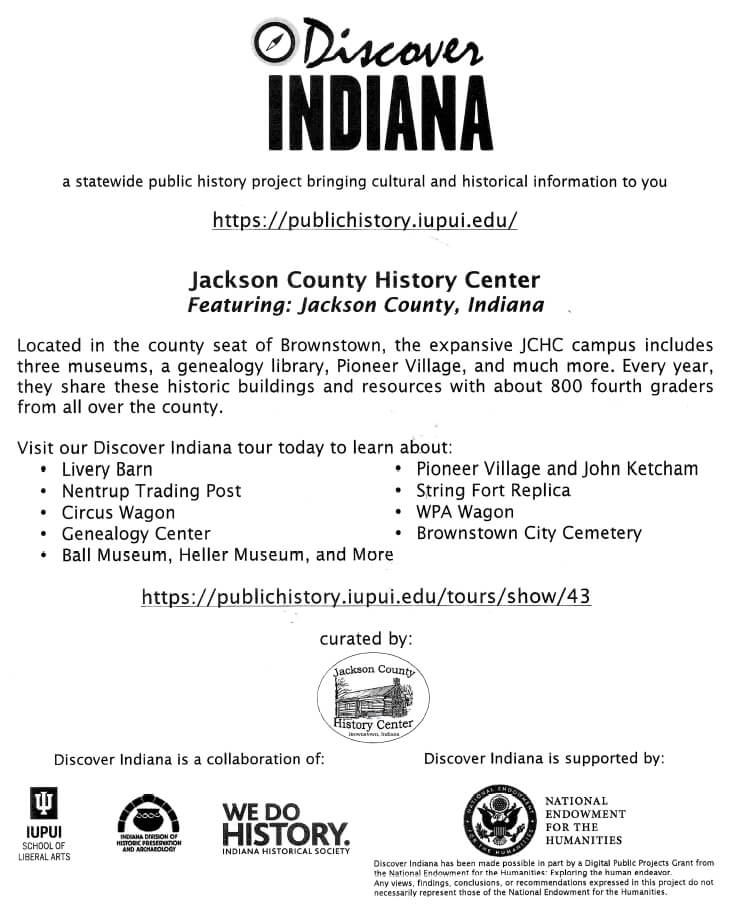 2020 Networking Luncheons
In 2020, we are going to be rolling out some new networking luncheons. Provided below is a link to the guidelines for these luncheons. If you are interested in sponsoring an event please contact us. Reservations will be on a first come first serve basis.
Networking Luncheon Guidelines for BEMS
Thanks for all your support and good luck in 2020!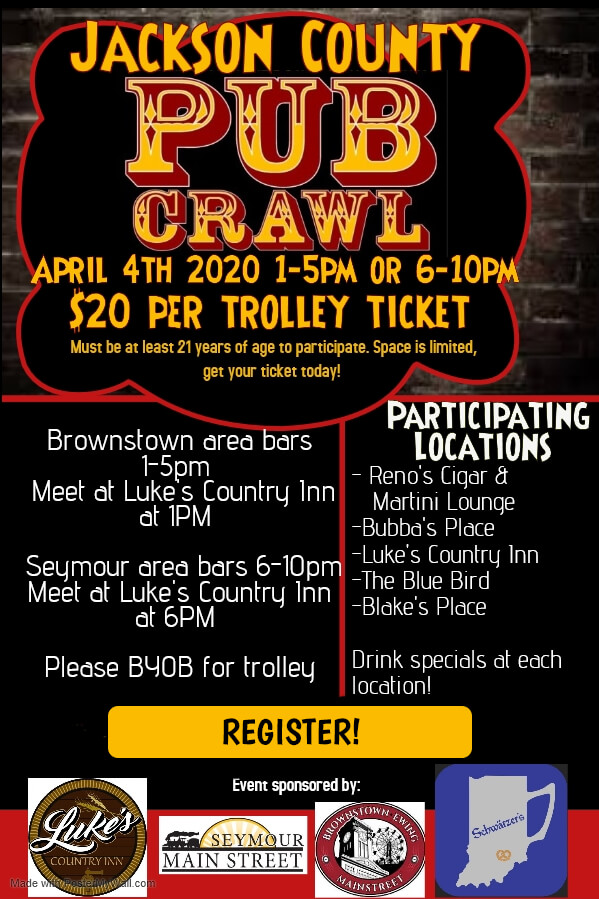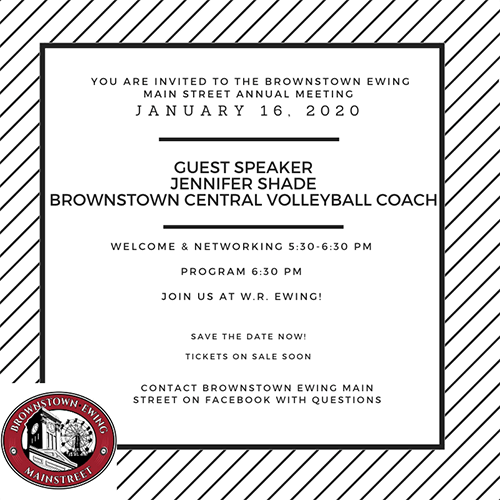 Join us Monday, December 2nd, 2019 for our annual "Hometown Christmas" event on the square!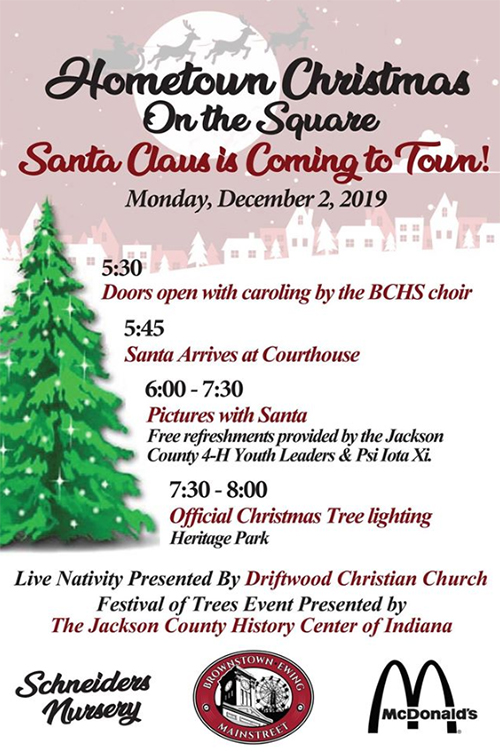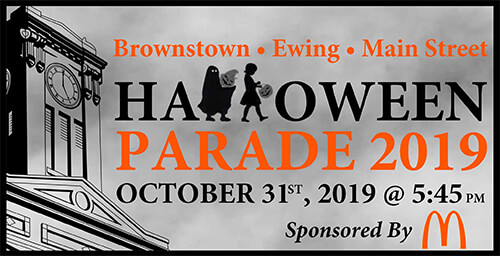 Fall Storefront Decorating Contest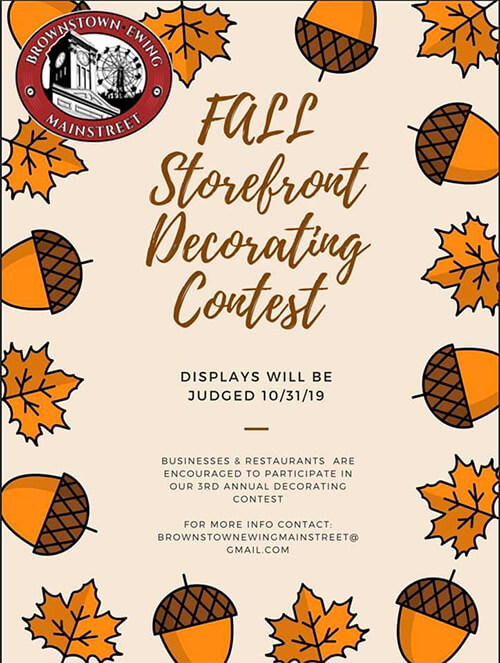 Golf Scramble
We are looking for hole sponsors and teams to fill our 2nd annual Golf Outing on September 22nd.
If you are interested in participating please click on the button below to register.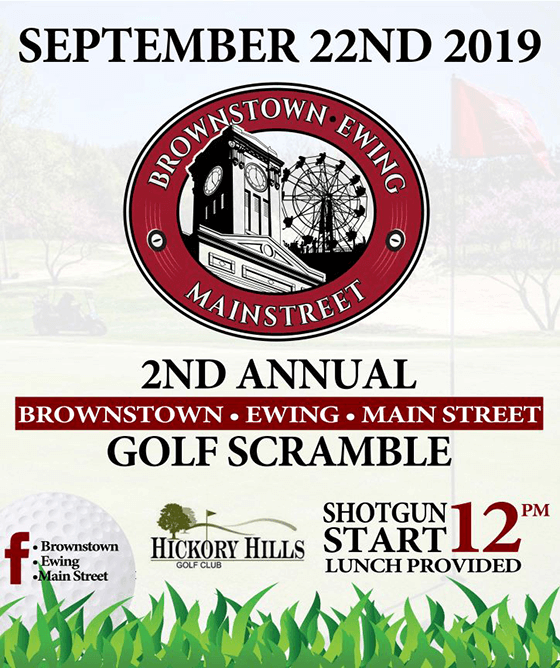 Click here if you prefer to print out a registration form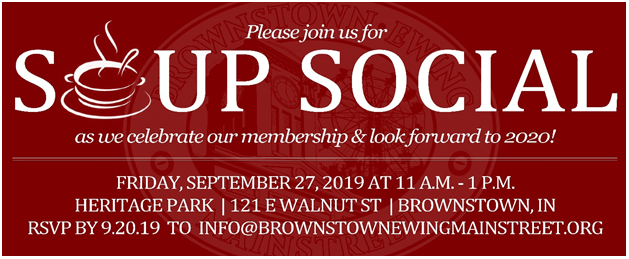 Join us for soup, networking, and some football talk the afternoon of the 2019 Jackson Bowl!
Loaded Potato Soup as well as Chili will be served free of charge to all of our current members & any business who takes a membership card the day of the event. The public is welcome to join for $5.00 per meal as well, but RSVP is required.
Coach May will be stopping by at 12:30 pm to discuss the big game as the Braves head to Bullet Stadium to take on the Owls in the 2019 Jackson Bowl!
The first 200 in attendance will receive a BEMS Koozie!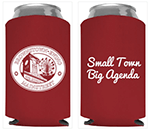 We look forward to seeing you there! Please RSVP by Sept 20th

Brownstown Ewing Main Street Soup Social
September 27th 2019
11 am - 1 pm

Join us this Saturday night for our Summer Concert Series
Join us this Saturday night for our Summer Concert Series featuring Forrest Turner, as well as Justyn Underwood & the Sodbusters! Forrest will kick off the evening starting at 6:30 pm. followed by Justyn & the boys at 8:00 pm! Bring a lawn chair out to Heritage Park and enjoy Tj's BBQ & Catering, a cold brew from Pewter Hall, and some great tunes on the square!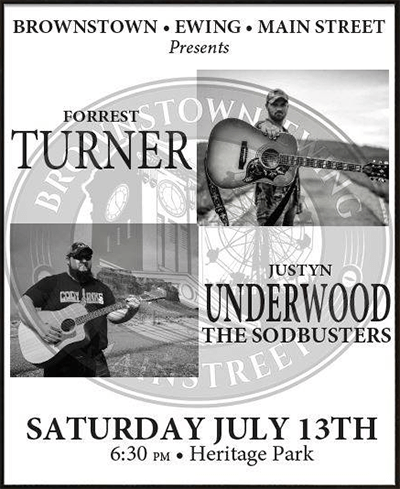 Brownstown Farmers Market Begins June 13th
We are excited to announce the 2019 season of the Brownstown Farmers Market. The Farmers Market will operate from 4:30 pm – 6:30 pm every Thursday from June 13, 2019 to August 29, 2019 in Heritage Park in Downtown Brownstown. Please notice the change in market day and hours.
Contact Purdue Extension Jackson County at 812-358-6101 if you would like to be a vendor for the 2019 season.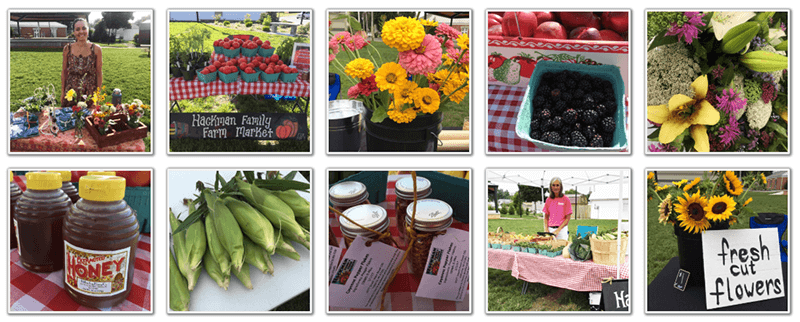 Pet Drive Event - June 3rd - 7th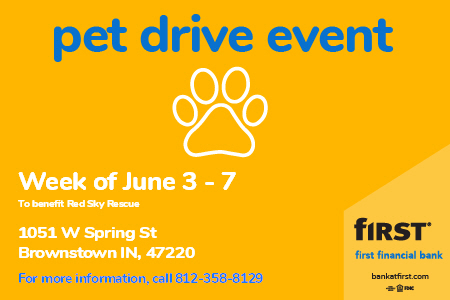 Red Sky Rescue will be joining us for a pet adoption event on Friday, June 7 from 10:00 a.m. to 3:00 p.m.
Donations are being accepted for Red Sky Rescue and include the following:
Genuine Dawn blue dish soap
Ordinary household bleach
Hefty or Sam's Club Mark 33 gallon black trash bags with drawstring
Any liquid laundry detergent
Bounty paper towels
Bounce or similar fabric softener dryer sheets
8" zip ties
Purina Dog Chow, green bag
Any brand rawhide dog chews
Pedigree canned "ground style" adult or puppy food, chicken or beef, but NOT "chunks with gravy"
Soft floppy dogs toys without stuffing
Rubber or plastic medium sized squeaky toys
Treats: Beggin' Strips, Canine CarryOuts, and similar soft chewy bagged treats

Easter Egg Hunt
Our 3rd Annual Easter Egg hunt is set for Saturday April 20 at 2:00 PM.
Registration is open from 1:00 up until time of the event.
We will have 6 different age groups!
The Easter Bunny is set to make his appearance again this year!
A huge thank you to our Sponsors: Blondies Pizzeria & Pub and Parker Dental!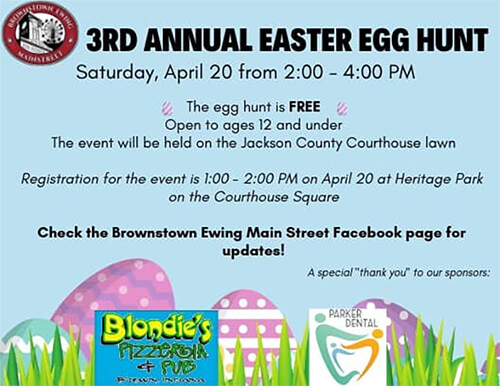 Summer Concert Series Kickoff
Join us on Saturday May 11th as we kickoff the 2019 Brownstown • Ewing • Main Street Summer Concert Series! Schneck Medical Center presents an Acoustic Evening with James Dupré @ 6:30 p.m. at Heritage Park with Salt Creek Brewery on tap! We look forward to seeing you there!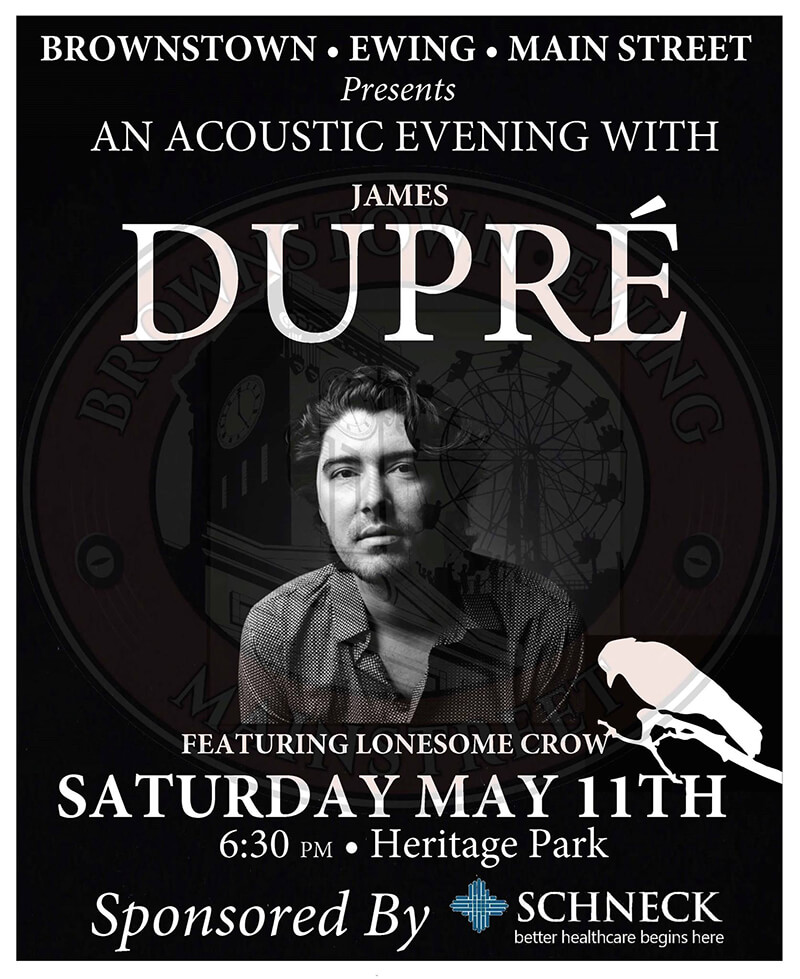 Ready to Join Brownstown Ewing Main Street?
We love our Small Town and we know you do too! Being a member of the Brownstown Ewing Main Street (BEMS) is an investment in your business and our community. Some benefits of becoming a Member include Free Internet Listing on the BEMS Membership Directory Page which is exclusively for Members. Social Media Exposure - One of our goals is to keep our members informed. This platform is another great opportunity for exposure and provides discounted advertising opportunities. Call or email us today if you have news or if you would like to advertise in our next posting! Business Referrals - We get calls on a regular basis from people both inside and outside the community looking for specific types of businesses. We only refer members to those looking for specific products or services. BEMS also offers great volunteer opportunities to serve in leadership positions on a variety of committees, all benefitting Brownstown and Ewing. Networking opportunities through our various events are endless. BEMS in partnership with our sponsors are thrilled to offer our very popular Concert Series again this year free of charge. BEMS welcomes top talent and artists to The Heritage Park Stage monthly May-October. We hope you enjoy the hanging baskets, beautiful flower pots, new benches and banners throughout Brownstown and Ewing as Beautification is an important focus of ours. While we continue to include additional benefits that will improve and benefit you as a member, please check back later to see what we have added to your membership.

Brownstown Ewing Main Street is a 501(c)(3) organization and all donations are tax-deductible to the full extent of the law.
Please consult your financial advisor for more information.